What I like about Latonas.com auction platform | suggestions
Just got around to taking a look at Rick Latona's new auction platform, Latonas.com and like what I see.   Here's what I think he is doing right…
1. I can see important domains stats like cost per click (CPC), exact Google searches at a glance for each listing.
This is a big time saver.   If I'm considering bidding on a keyword name, the first thing I do is run it through Google's keyword tool to see search demand and CPC.   Thanks Rick for saving me some time.  Hopefully, this will encourage better quality listings and bring back some frustrated buyers – no more researching  hundreds of names only to find out that 95% of them have no real demand.
2. Listings and descriptions can be easily scanned from the main auction page. Much nicer than hoverable popovers or small description links that most buyers never click.   It's always surprised me how many auction platforms bury descriptions a level or two deep and make it hard for sellers to highlight the benefits of their domain and buyers to learn about each domain.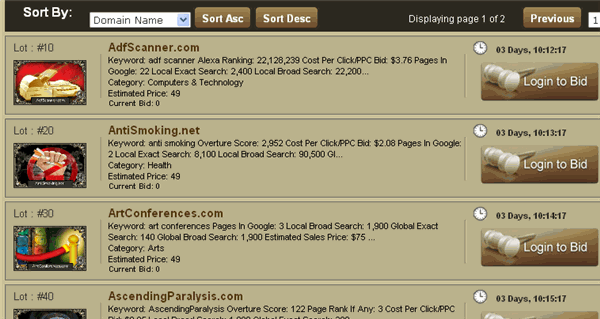 3. Descriptions seem to be more metric based and less 'fluff'. Don't know if this is a result of system programming or good human editing, but many of the domain descriptions are actually helpful  (e.g. number of incoming links and pages indexed by Google).  I know these factors can change quickly when a name changes hands, but they can contribute to the value of a name and are good to be aware of.
4. Nice look at feel, including a custom graphic for each name. If a name is worth hundreds or thousands of dollars, it's probably worth having a graphic artist spend a few minutes making up a good graphic for it.   The only place I have seen this before is at DotSauce's AQDN.com. It's nice to see a major auction platform include this and is a very nice touch.
Suggestions
I know the site is still in beta mode, but here are a couple of features I hope they consider adding down the road…
Simplified view – I like the detailed info, but some might find it useful to have an option for quick summary view.   Ideally, it would be nice to be able to cut and paste all domains listed on a page to quickly plug them into other services like Valuate.com.
Ability to export – The ability to export auction data to .csv or excel format might be helpful for some advanced domainers who have their own tracking systems.
Advanced search capability – As a big keyword domainer, I would love to have the ability to search for specific demand/CPC/etc.   E.g. list all .com domains with a CPC over $2 and more than 5,000 exact searches per month.
I think it makes good sense to test the platform out with a lower volume charity auction and wish Rick and Whypark the best of luck in this week's auction.   If you are interested in trying out the system or bidding in the auction you can follow this link.