Using Snapnames to sell product keyword domains
My main domaining focus is domain development and end user resale, but I thought it would be interesting to test Snapnames' auction platform to sell a few .com product domains directly to domainers. I picked 10 names, all with exact match search demand and respectable Valuate.com appraisals ($200 – $15,000) and entered them into an auction ending tomorrow at 3:15 PM EST.
Submission process
I chose names that were in my Moniker.com account, since Moniker offers an integrated 'submit to Snapnames' option in their control panel. It took less than 5 minutes to submit the 10 names and all were accepted within 24 hours. I probably wouldn't have gone to the trouble of transferring domains from a different registrar to Moniker just to use the Snapnames platform, but it is a nice perk to using Moniker.
Breaking most of my 'end user' rules
When I market names to end users, I always write a detailed description of the domain and its benefits. I also price most good 2 or 3 word domains in the mid $x,xxx range – especially those with good commercial intent which can be developed as niche category killer businesses.  I typically contact Adwords advertisers, owners of similar names with alternate extensions and businesses who may not yet know the benefits of using a good domain to attract additional customers.
Since the names I chose were geared towards fellow domainers, I opted to skip entering a description (something I rarely recommend) and priced the names with a relatively low reserve price of $68. I was tempted to price them at $1 to attract additional attention, but chose the $68 price point to catch the eye of domainers who backorder names at $69. I didn't research end users and only sent out a handful of e-mails to the owners of alternate extensions of a few of the names.
The names
I picked product keyword domains which I thought were suited for domainer development – either via traditional minisites or newer product based portals. Many of them have multiple 'lesser' extensions taken and several of them have high CPCs which lend themselves to Adsense monetization.  Here's a screenshot I took using Valuate.com which shows CPC and com/net/org availability.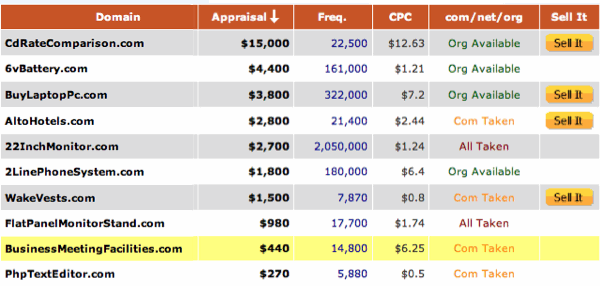 Given past experiments with Snapnames, I would only expect a few to sell but am interested to see if any achieve traction and are bid up to respectable amounts.   I've hyperlinked the names below in case you are interested in checking out the auctions…
cdratecomparison.com
6vbattery.com
buylaptoppc.com
altohotels.com
22inchmonitor.com
2linephonesystem.com
wakevests.com
flatpanelmonitorstand.com
businessmeetingfacilities.com
phptexteditor.com